You Should Know…
Da Vinci's Valedictorian and Gates Scholar Featured on KVIA!
We have cause for great celebration! One of our own, Da Vinci Senior and Valedictorian, Jesus Olivares was selected to be featured on the weekly Channel 7 Community Champion segment! The segment, which aired on Wednesday, May 13th on the 7 P.M. and 10 P.M. newscasts, featured Jesse's extraordinary opportunity of being selected as a Gates Scholar, one of only 300 in the nation, being accepted into Stanford University's School of Engineering on a $320,000 scholarship, as well as his other noteworthy accomplishments while at Da Vinci School for Science and the Arts!
"The path to success is not easy, it is the sum of many efforts, however, reaching your goals is possible taking advantage of the opportunities offered at this school district. Initiatives like the Superintendent's Leadership Academy prompt students to aim high and strive to reach their dreams." – Jesus Olivares; Valedictorian, Class of 2020
As a Senior Intern for Superintendent, Dr. G., Jesse has evolved into quite the leader and academic scholar, serving as a prime example of what the Superintendent's Leadership Program and high-rigor curriculum sets out to accomplish with all Burnham Wood Family of Charter Schools' students. Congratulations Jesse!
Click the link to watch Jesse's KVIA Community Champion Segment:
---
¡Tenemos motivos para una gran celebración! ¡Uno de los nuestros, el graduando de Da Vinci, Jesus Olivares, fue seleccionado para aparecer en el segmento semanal de Campeones de la Comunidad del canal 7! El cual salió al aire el miércoles 13 de mayo en los noticieros de las 7 PM y 10 PM, en este se presentó la extraordinaria oportunidad que obtuvo Jesse de ser seleccionado y aceptado, uno de los únicos 300 en la nación, como un becario "Gates", en la Escuela de Ingeniería de la Universidad de Stanford con una beca de $320,000. ¡Así como otros logros destacables mientras estaba en la Escuela Da Vinci for Science and the Arts!
"El camino hacia el éxito no es fácil, es la suma de muchos esfuerzos, sin embargo, alcanzar tus metas es posible aprovechando las oportunidades que ofrece este distrito escolar. Oportunidades como la Academia de Liderazgo del Superintendente hacen que los estudiantes apunten alto y se esfuercen por alcanzar sus sueños". – Jesús Olivares; Graduando de la Clase de 2020
Haga clic en el enlace para ver el segmento de campeones de la comunidad KVIA de Jesse:
---
Jesse Olivares: Gates Scholar and Stanford Bound!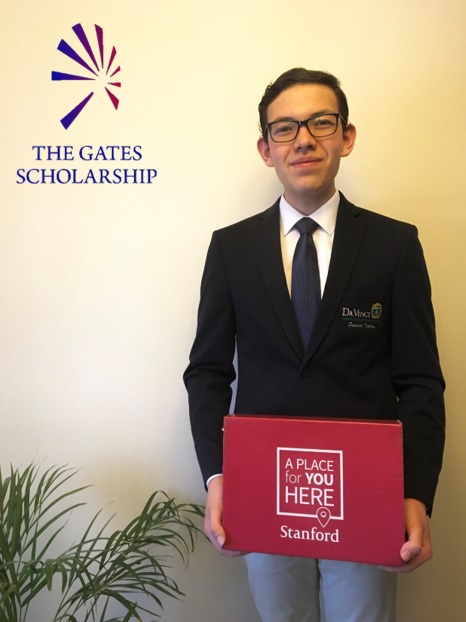 Congratulations to Da Vinci Senior Jesse Olivares! He has been selected as a Gates Scholar and member of The Gates Scholarship Class of 2020! His award letter states that "As one of 300 Scholars chosen from a pool of over 36,500 applicants from across the nation, you now belong to an elite group of young leaders—all of whom represent the very pinnacle of academic achievement, service, and commitment."
Jesse will receive funding for the full cost of attendance at the University of his choice, including tuition, fees, room, board, books, and transportation, and may include other personal costs. For Jesse, who has decided to pursue an Engineering Degree at Stanford University, with yearly costs of $80,000, this is an estimated $320,000 scholarship! Jesse is a true representative of Dr. G.'s vision to foster student success at the highest level, through a high rigor curriculum, strong leadership skills, and socially conscious behavior…growing the whole student! Please click or tap the image below to read the full article:
---
InSPIRESS Continues to Rule!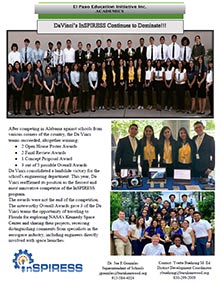 After competing in Alabama against schools from various corners of the country, the Da Vinci teams succeeded, altogether winning:
2 Open House Poster Awards
2 Final Review Awards
1 Concept Proposal Award
3 out of 5 possible Overall Awards
Da Vinci consolidated a landslide victory for the school's engineering department. This year, Da Vinci reaffirmed its position as the fiercest and most innovative competitor of the InSPIRESS program. The awards were not the end of the competition. The noteworthy Overall Awards gave three of the Da Vinci teams the opportunity of traveling to Florida to explore NASA's Kennedy Space Center and to share their projects, receiving distinguishing comments from specialists in the aerospace industry, including engineers directly involved with space launches. Please see the InSPIRESS newsletter for more information about the program.
---
MISSION Our mission is to work in solid partnership with the family and community in order to prepare children to accept responsibility for their own learning. We offer students a framework that encourages lifelong learning through skills building, creativity, a sense of self-worth, and ethical values necessary to survive and grow in an ever-changing, diverse, global, society.
CURRICULUM We provide a rigorous, integrated curriculum with an Arts, Science, Technology, Engineering, and Mathematics (STEM) focus. This model allows students the necessary time to develop intellectually, socially, and artistically. Classes are small and our teachers promote a personalized learning environment that advances our core values: respect, responsibility, quality of self and work. Instruction includes:
Phonics-Based Reading Program
Self-Paced and Mastery-Based Instruction
Cooperative Learning
Enrichment Programs
Pre AP & Advanced Placement Courses in Middle School and High School
Optional Suzuki Violin and Piano lessons
Double Math Periods
Robotics and Engineering
Graphic Design and Media
Dual High School and College Credit
Community Service and Internships
Performing Arts classes: guitar, strings, band, dance, choir
Visual Arts
---
"My eight year-old daughter has been playing the violin for three years now thanks to the Suzuki Violin program that the school offers starting in Kinder. It is so rewarding to see my daughter advancing academically and musically!" -Melodya Salaices
Quick Links
---
You Should Know…
Da Vinci
The National Honor Society at Da Vinci
The National Honor Society (NHS) elevates a school's commitment to the values of scholarship, service, leadership, and character. These four pillars have been associated with membership in the organization since its inception in 1921. Our Induction Ceremony was held in December 19, 2019. In attendance were parents, family, and staff. Our school principal, Mr. Medina, gave special remarks to the NHS members. This formal candle-lighting ceremony marked the establishment of the Da Vinci School for Science and the Arts chapter of the National Honor Society. Inductees recited the NHS pledge and participated in the lighting of their individual candles to signify their entry into the NHS. This event was chaired by a committee of Da Vinci teachers and administration, who had the honor of welcoming new members into the NHS chapter. Continue reading The National Honor Society at Da Vinci
---
Computer Science Volunteers Needed
Volunteers with a computer science or software engineering background are needed to provide subject matter experience as part of Da Vinci's Advance Placement (AP) Computer Science course next school year. For more details about the program and how you can get involved, please see the letter from Ms. Longoria.
---
Parent Meeting/Open House
Please join us for a parent meeting headed by Dr. Gonzales and the Da Vinci administration on Tuesday, February 26 from 6:00-7:30 P.M. We will be addressing enrollment, academic and extra-curricular programs for next year. After the presentation in the auditorium, parents will be able to visit with their child's teachers.
---
Dragon Digest, Vol. 2
The latest edition of Dragon Digest is available. We as a school wanted to create a publication to send out to our parents, students and staff to inform our Da Vinci family about upcoming events, share exciting news, or simply spread Da Vinci School Spirit. In this issue, read about upcoming events, STAAR testing, OnRamps, the senior trip, registration, and more. View the February 26, 2019 edition.
---
Dragon Digest, Vol. 1
We as a school wanted to create a publication to send out to our parents, students and staff to inform our Da Vinci family about upcoming events, share exciting news, or simply spread Da Vinci School Spirit. In this issue, read about upcoming events, OnRamps and Dual Credit, robotics, athletics, orchestra, and more. View the November 9, 2018 edition, o ver la edición de 9 de noviembre de 2018 en español.
---
HS Basketball Tryouts
Tryouts for Dragons High School girls and boys basketball are coming up, so get ready — interested students in grades 9-12 should have a physical completed before the tryout dates. Girls basketball tryouts will be on October 29 and 30 from 4:15-6:00 P.M. in the DV gym. Boys basketball tryouts will be on November 1 and 2 from 4:15-5:45 P.M. in the DV gym. For more information, see the coaches: Coach Montes or Coach Lopez for girls basketball, and Coach Dominguez for boys basketball.
---
You Should Know…
Howard Burnham
HBE Dragonbots Bring Home a Trophy
On January 26th our Howard Burnham Robotics team competed at the regional First LEGO League Robotics competition at UTEP. Students designed and built their robot to complete "Into Orbit" missions, as well as proposing their solution to a social or physical problem faced by astronauts on long term space missions. Continue reading HBE Dragonbots Bring Home a Trophy
---
Get Ready for the Science Fair
To make sure your child is ready for the science fair, on February 21-22, 2019, we have a planning guide that will walk you through everything from picking a topic up to presenting.
---
Howard Burnham Elementary Student is a Hero!
One 4th grade student's quick thinking and calm reaction resulted in her father receiving the emergency care he needed. Mireyda Samper, a student in 4A, immediately knew that her father was having a seizure this week. "I recognized that it was a seizure because I saw my dad have one before," she stated when recalling what happened. Continue reading Howard Burnham Elementary Student is a Hero!
---

You Should Know…
Vista del Futuro
You're Invited to Our Drive-Through Graduation!
Vista Del Futuro cordially invites its Burnham Wood Family to help celebrate their kindergarten and 6th grade graduates with a "Drive-Though Graduation!" The event will be held Friday, May 29th at 10 A.M. for the kindergarten classes and 12 noon for the 6th grade graduates at our campus located at 1671 Bob Hope Drive. We hope to see you all there! Please call 915-855-8143 if you have any questions.
---
Board of Directors
Mr. Rogelio Chacon, Human Resources, Becton Dickinson and Parent
Mr. Stanley Esparza, Technical Support Coordinator, TelerX and Parent
Mr. Chad Friedrichsen, IT Senior Specialist/Software Developer IV
Mr. Carlos Kaplan, Businessman and Parent
Mr. Eric Summer, Senior Software Engineer, Exelis, Inc. and Parent
Mr. Pedro Velazco, Senior Manager (Engineering) at Becton Dickinson and Parent
Board of Directors Meeting Agenda
School Board
page for more.
---
Howard Burnham
7310 Bishop Flores Dr.
El Paso, TX 79912

Phone: (915) 584-9499
Fax: (915) 585-8814
Vista del Futuro
1671 Bob Hope Dr.
El Paso, TX 79936

Phone: (915) 855-8143
Fax: (915) 855-8179
Linguistic Academy
5141 Upper Valley Rd.
El Paso, TX 79932

Phone: (915) 331-4397

Da Vinci
785 Southwestern Dr.
El Paso, TX 79912

Phone: (915) 584-4024
Fax: (915) 581-9840