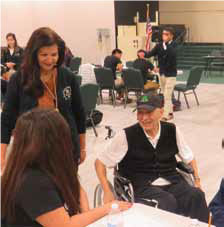 Superintendent of Burnham Wood Charter Schools, Dr. Joe E. Gonzales, was born in Saginaw, Michigan, in the early 1940's. He was born into a large migrant farmworker family of six sisters and one brother.
Dr. Gonzales' mother, Luciana (Lucy) Canales-Gonzales, and his father, Rosalio (Ross) Gonzales, dedicated their lives to their children's well-being. They were determined that their children would attain the necessary education to be capable of escaping the physical hardships of migrant labor.
Mr. and Mrs. Gonzales were convinced that the path to a more secure future for their children was one that included a lifetime of educational endeavor.
As a result, all the Gonzales children grew up knowing that the minimum level of education expected of them was a high school diploma. All of the reached that level of education, and then some.
Joe Gonzales was destined to pursue a much higher level of education. After high school, the future "Dr. G" went on to attend Delta Junior College where he received an associate's degree. After that, he went on to attend Michigan State University where he received both a bachelor's and master's degree. But he went even farther than that.
He attended Wayne State University where he was awarded a doctorate degree in curriculum and instruction, as well another doctorate in bilingual education.
After all that schooling, Dr. G's work career has included experience as a teacher, a coach, an assistant principal, a principal, an assistant superintendent, and finally a superintendent.
In his current assignment as superintendent of the Burnham Wood Charter Schools, Dr. G said, "It's an honor to be in this position, especially because of this institution's proud tradition and high level of accomplishment."