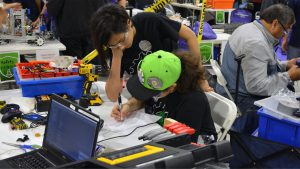 The Da Vinci Robotics teams, which have developed a sterling reputation based on their impressive wins, awards and trophies over the years, recently returned from competition at the 2019 FIRST Championship in Houston.
But it was a competition like they'd never seen. The event drew 30,000 students, 70,000 spectators, more than 1,400 teams from 70 countries all over the world, and a whopping 2,400 volunteers.
The event is the world's largest celebration of science, technology, engineering and math (STEM) for students ages 6-18. Their task? To build a 120-pound robot that can complete tasks that change every year.
Proud Just to Be There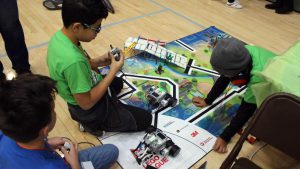 Burnham Wood was very proud to have the Da Vinci Robotics Team represent the district at the prestigious championship on April 17th.
The team, made up of students at Da Vinci School for Science and the Arts, and known as Team 5670, has set a very high bar for the community by simply being invited to compete, according to Ed Rubio, the Da Vinci Robotics mentor.
"Team 5670 is the first team from El Paso to compete in the FIRST Tech Challenge Division at the World Championship," Mr. Rubio said. "Team members prepared themselves by participating in the toughest robotics program Da Vinci has to offer. Their passion and work ethic are truly impressive."
It's All About Networking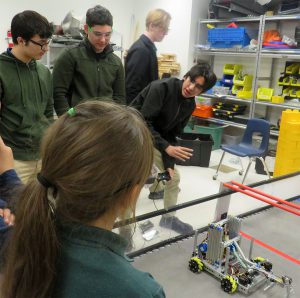 The event also served as a great opportunity for students to network with event sponsors, industry leaders, prestigious universities and government agencies, including NASA, he said.
Victoria Garcia, a member of the Da Vinci team, said she was just grateful to have made the trip.
"For the first time, I was able to experience the FIRST Robotics Championships in Houston," she said. "Not only was it a first for me, but also for my fellow teammates. Even though we didn't win, we came back with our heads held high and had the chance to meet some amazing teams."
They Came From All Over
Victoria said the 30,000 students competing were from far and wide, but mostly from the U.S., Mexico, Canada, Turkey, Israel, Australia and China.
"Hopefully, we'll get to go to Worlds again," she said "Thank you #5670 Da Vinci Dragons for letting me come along on this amazing trip!"
Maya Garcia, a senior DV Robotics team member, said she was impressed with the global makeup of competitors.
"I think the best part about going to Worlds was being able meet other teams from different states and countries, and to learn different things in order to prepare ourselves for next year." she said.
Robotics is a District Favorite
Burnham Wood's robotics program has long been a draw for new students at all grade levels who want to develop their STEM knowledge and abilities, according to Superintendent Dr. G.
"This program will continue to be a focus of the Burnham Wood Charter School's mission to enhance our students' potential for success in a highly competitive international workforce that demands the many skills fostered in our robotics programs," he said.
These skills include problem solving, team work, communication and critical thinking.
We've Got Trophies to Prove It
The high school and elementary school teams have a long tradition of excellence and honors that include:
2018 Design Award
2018 West Texas Regional Competition Champions
2019 Connect Award Winners
HBE Dragonbot 3rd place for Strategy and Innovation at the 2019 FTC Regional Competition
Robotics is the Future
Vista del Futuro robotics led by Thomas Cervantes has spent the year building the Vista program to where it is today. The Linguistic Academy, under the direction of Mariana Gonzalez, has established itself as a first-rate robotics program. Howard Burnham Elementary's robotics program is led by Karen Saunders.
Ms. Gonzales states, "In our third grade robotics class at the Linguistic Academy of El Paso, we week to promote and teach a variety of basic life skills to our students, including teamwork, accountability, dedication, critical thinking and problem solving." Ms. Saunders agrees when saying, "We are most proud of the teamwork, perseverance, and courage that our fifth grade team members have shown."