Scores of Burnham Wood students, faculty, and staff are now deeply involved in learning and mastering the fine arts of music, theatre, art, linguistics, and dance.
Burnham Wood Exudes Musical Pride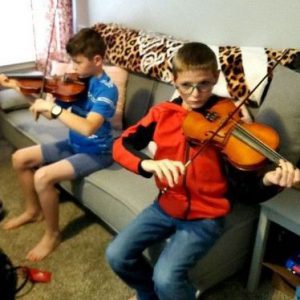 From its inception, Burnham Wood program's focus on Science and the Arts, required a complete plan to accommodate a student's desire to enjoy the numerous benefits of music. The program's early stakeholders understood the proven rewards received through student participation. Since those early years in the program, decision makers have maximized the opportunity for all students across the school to enjoy and reap those rewards. Rewards that include early and consistent skill development and culminating in efforts to place gifted music students in esteemed University programs.
The district music program has grown and evolved into a quality and esteemed program. Presently, there are 90 students in Orchestra, 40 students in Choir, and 40 students in the Middle/High School Da Vinci Band, as well as hundreds of elementary students receiving musical instruction. There are multiple opportunities to showcase the efforts of all involved. Several concerts throughout the year, provide the district the opportunity to showcase their gifted students' efforts in music. These events prove to be a highlight of the year's district activities and events.
Thespians in Action
The district's theatre program is off and running with actors at Da Vinci quickly making their mark on the UIL stage. In just their second year, the Da Vinci theatre program has made impressive advances in competition, advances usually realized only after years of practice.
And there are ambitious plans for the future. A state-of-the-art performance stage is just one of the many program improvements jumping from the drawing board to reality. Under the direction of Wayne Davidson, the theatre program is also planning future productions, including dinner theatre, musicals and more UIL competitions. After-school and summer theatre offerings to all district students across all grade levels will allow a nurturing of love for all aspects of theatre, including acting, direction and production, said Mr. Davidson. Theatre at Burnham Wood Charter schools is growing at a record pace and will continue to be a highlight of the district!
Working on a Masterpiece
Burnham Wood Charter Schools knows that exposing art to young people can do wonders for their development. As an essential component of the district's mission to grow the whole student, the plan for a comprehensive art curriculum across grades pK-12 has been of the utmost priority since the school district's inception. Multiple art options for students of all grade levels, as well as a 4-week art camp in June, are examples of how Burnham Wood is shooting for our students to be at the top of the art game! District facilitators and school administrators are working on a plan to ensure that all district students are provided with the tools to grow their artistic talents as they achieve academically. The district is working to provide all the resources needed to develop a top-quality art program so that both enrolled and prospective art students have all the tools they'll need to become the creators and innovators they aspire to be.
Shall We Dance?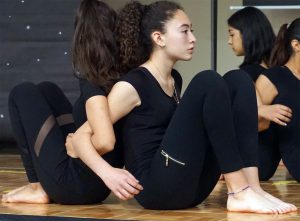 Dance is another favored discipline at Burnham Wood. Both boys and girls at all campuses enjoy the benefits of qualified dance instructors.
Opportunities include after-school dance instruction at both Vista Del Futuro and Howard Burnham Elementary. In addition, Da Vinci will continue to offer dance options during their school day.
Concerts and other venues throughout the year give district parents, families and the community a chance to see the fruits of all the dancers' hard work throughout the year! Contemporary, jazz, and hip hop seem to be the most popular genres among students and fans alike, so plenty of related dancing is on the way.
Linguistics Across the District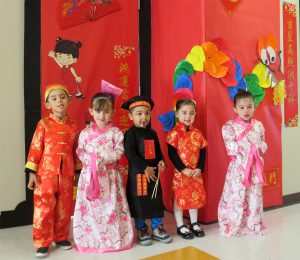 Linguistics is a focus area for our Burnham Wood Schools. According to Supt. Dr. G., "There are magnet schools and specialty schools of all sorts, shapes and sizes in America, but linguistically directed and targeted education like our The Linguistic Academy of El Paso is not common. There are other advantages that might not be as evident. Students who study second or third languages, when compared against other students with similar backgrounds, attain higher test scores and display a greater degree of discipline." It is for this reason that all Burnham Wood Schools offer students multiple opportunities to be multilingual.
Burnham Wood Charter Schools will continue to invest in a robust fine arts program, knowing full well the tremendous inspiration and benefits they provide to our students, schools and community.